General Information
The Rio Grande Nature Center State Park (RGNCSP) is one of 35 parks in the New Mexico State Park system. To contact the Park, call (505) 344-7240. To view the State Parks' web site, click here.  For matters pertaining to the Friends of the Rio Grande Nature Center,  please call our office at (505) 343-1373 or email us. 
To contact Wildlife Rescue, a wild animal rehabilitation facility located just inside the entrance to the park, call (505)344-2500.
Day-Use Fee:
$3 per vehicle
$15 per van or school bus seating 15 or more people
$50 per tour bus
Day use fees apply to  schools, tours and other groups.  Group registration is through the state parks system. Click here for more information.
Don't want to pay fees each time? Purchase a NM Parks  annual permit here.  Or become a member of the Friends of the Rio Grande Nature Center, which includes an annual day-use pass, by clicking here.
Hours:
Open every day except Thanksgiving, Christmas, and
New Year's Day
Gates: 8:00 am – 5:00 pm
Visitor Center: 10:00 am – 4:00 pm
Front Desk: 10:00 am – 4:00 pm
Nature Shop: 11 – 3 (T-Th), 10-4 (F-M)
Park Rules
Pet and Bicycle Restrictions
Pet walking and bicycle riding are not permitted on the grounds of the park, with the exception of the gravel parking lot.  However, the City of Albuquerque Open Space Division allows leashed dog walking and bike riding on trails within and along the bosque (but outside the Rio Grande Nature Center State Park itself). Visitors with pets or bicycles may access these trails via the Candelaria access path that links Candelaria Road with the Paseo del Bosque bike path. Per ADA standards, dogs that are individually trained to do work or perform tasks for people with disabilities are welcome in the park.
Fire Restrictions
The Rio Grande Nature Center State Park and the adjacent CABQ Open Space bosque are permanently under Stage One fire restrictions. There are NO places where smoking or fires are permitted in the bosque. During times of high fire danger, access to the bosque may be limited or closed.
No Remote-Controlled Aircraft
No Remote-Controlled Aircraft. Launching, landing, or operating unmanned or remote-controlled aircraft within the park area is prohibited per NM Administrative Code 19.5.2.9.
Inclement Weather
The gates of the Rio Grande Nature Center State Park normally open at 8:00 a.m.; however, if Albuquerque Public Schools are closed or delayed due to inclement weather, the park will open at 10:00 a.m. In the event of inclement weather when school is not in session, please visit the State Personnel Office website (http://www.spo.state.nm.us) for delays or closures of State Facilities in Albuquerque.
Facility Rental
Per the Park's Management Plan, facility rental must align with our mission, "To preserve and protect the Rio Grande bosque, to educate the public about Rio Grande ecosystems, and to foster positive human interactions with those systems." For inquiries regarding facility rental, contact the Park Superintendent.
Facilities and Outdoor Spaces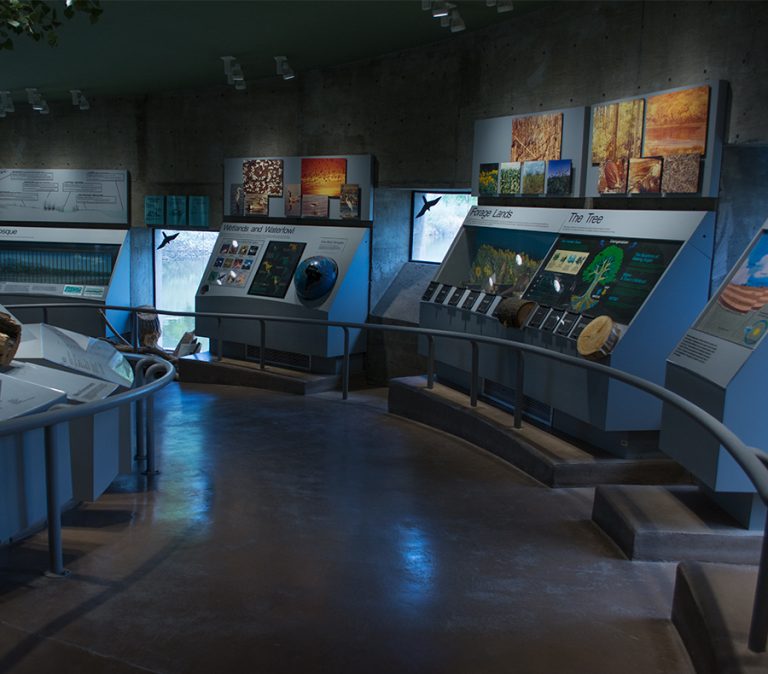 Visitor Center
The Visitor Center at the Rio Grande Nature Center was designed by architect Antoine Predock and completed in 1982. It contains interpretive exhibits about the plants, animals, geology, and hydrology of the Middle Rio Grande Bosque ecosystem. At the Visitor Center, front-desk volunteers are available to answer questions, sell park memberships, offer trail guides, and loan binoculars and field guides. The Observation Room overlooks a three-acre pond offers up-close encounters with ducks, geese, turtles, and dragonflies; it has comfortable seating and brings in the sounds from the pond via a microphone located near one of the bird feeders. It also contains a non-circulating reference library filled with publications on birds, herbs, trees, and other aspects of natural history. Restrooms and water fountains are also located in the Visitor Center.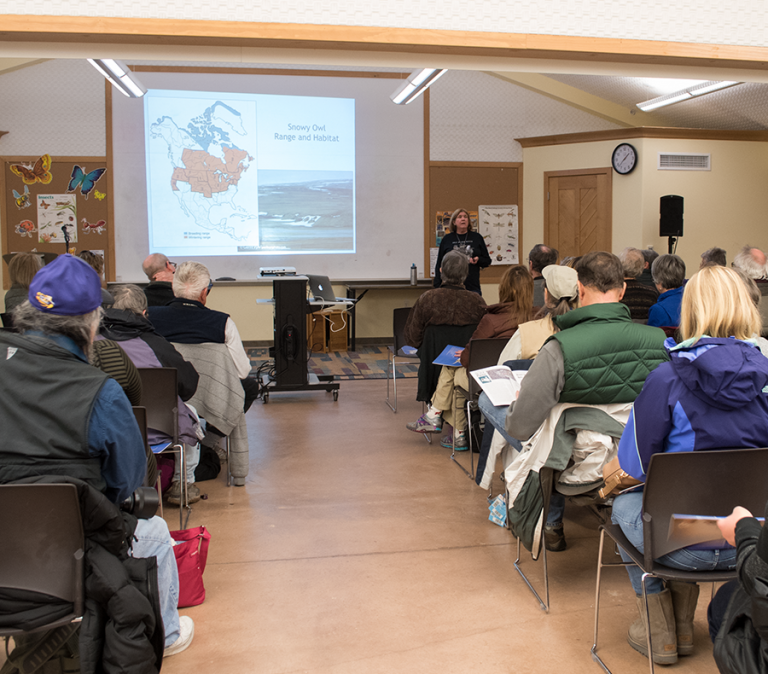 Education Building
Opened in July 2011, the Nature Center's education building offers 5,500 square feet of space to meet the educational needs of 130,000 children and adults who visit the park each year. Located east of the entrance road, the half-acre site, previously bare dirt where a house once stood, now creates new habitat for wildlife. This multifunctional building contains offices and classrooms/meeting rooms for talks, public screenings, and special events as well as student activities. The structure itself is a showcase of green building techniques and features: It is heated and cooled with high efficiency rooftop photo-voltaic power panels, resulting in net-zero energy use as it generates as much energy as it consumes. Materials incorporated in the construction use recycled content wherever practical, such as countertops and steel. Materials obtained from local manufactured sources include cement, gypsum board, aggregate, and SIP panels. The building incorporates rapidly renewable materials, such as straw in door cores and other panels, as well as local New Mexico materials like stone. Cisterns store storm water for restrooms and irrigation of native plants.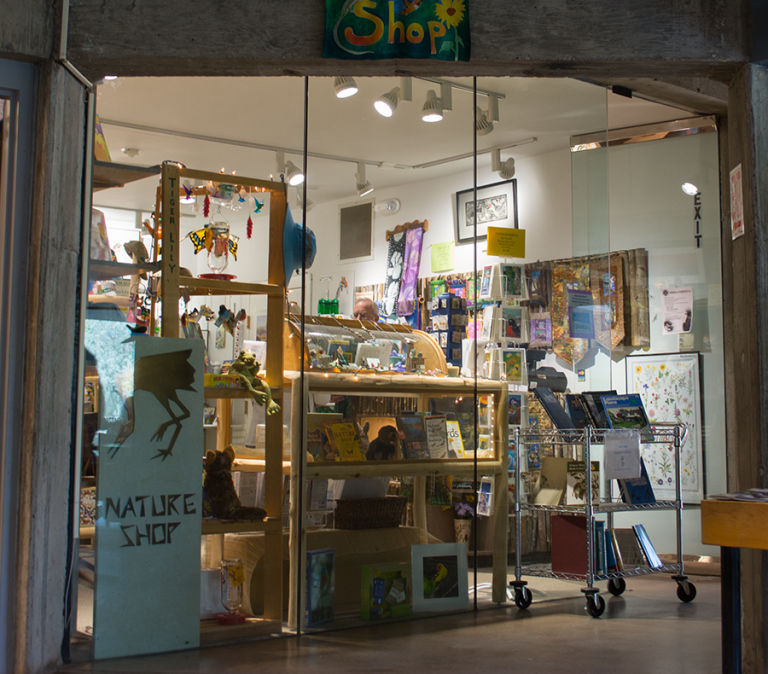 Nature Shop
Inside the Visitor Center, the Friends Nature Shop is open 10 - 2 daily and carries a wide variety of educational materials and just-for-fun merchandise for adults and children. In addition to the first-rate books on birds, animals, plants, and other natural history topics, the shop contains unusual nature-related gift items, including clothing, jewelry, glass, pottery, and fabric art, much of which has been created by local artists and volunteers. Friends members receive a 10% discount on merchandise and a 20% holiday discount throughout December. All purchases are tax-free and support the park.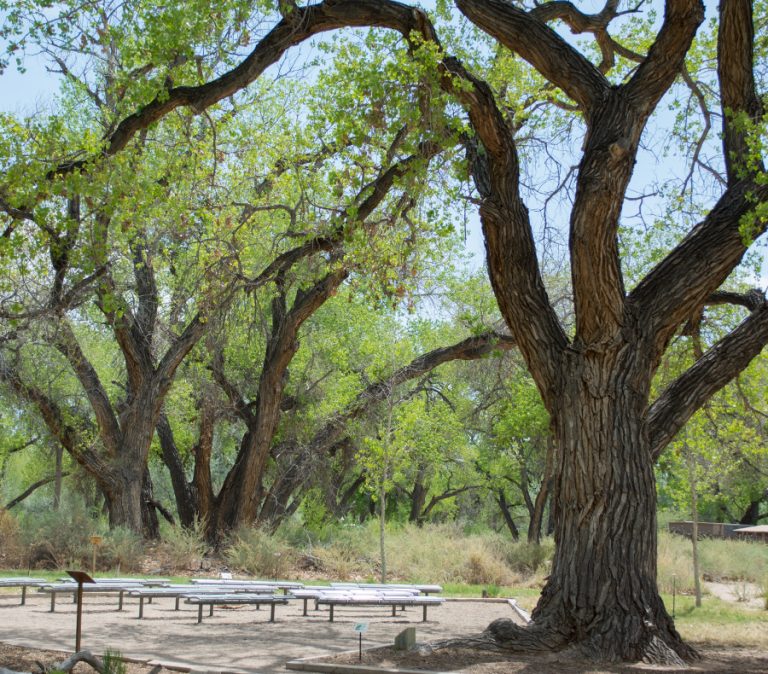 Park Grounds
About one third of the Park grounds are open to the public. The remaining areas provide quieter habitat for wildlife. The public areas of the Nature Center offer short trails leading to wildlife viewing areas, views of the Sandia Mountains, the Native Plant and Mariposaville gardens,and a covered shelter for picnicking. There are several constructed ponds on the grounds of the Park. While all are closed to the public, two have special areas for viewing wildlife and one, the Discovery Pond, which is reserved for education and research and is made available for numerous school groups during much of the year. With the help of Nature Center volunteers, students have the opportunity to collect, observe, and release aquatic life that can be viewed with various magnifiers.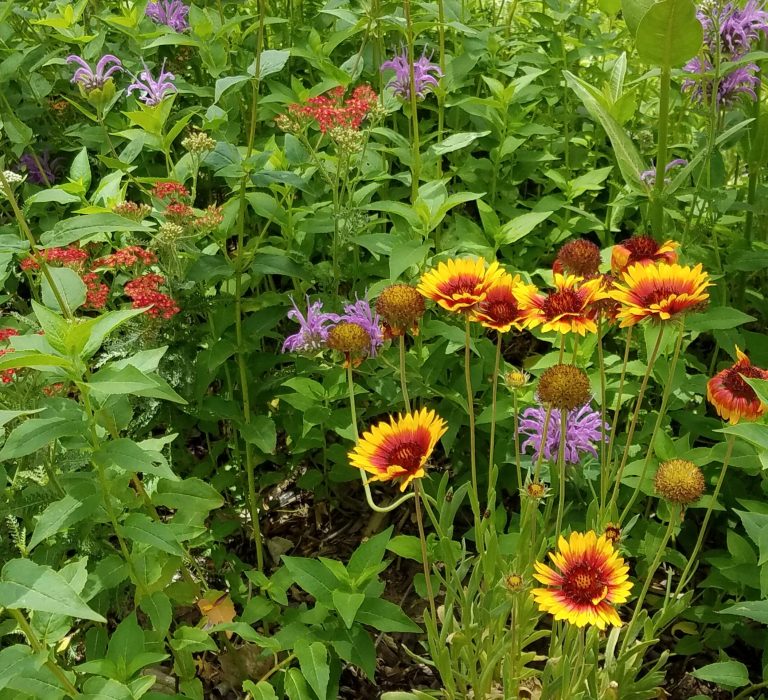 Native Plant Garden
Looking for a relaxing, peaceful place full of delight? We've got a place for you: The Native Plants Garden at the Rio Grande Nature Center. Discover the special beauty of native plants. Enjoy the magic of nature all around you: birds, bees, butterflies, lizards, the occasional porcupine, and of course the native plants. The Native Plant Garden is a place to photograph, birdwatch, inspire, paint, draw, write a poem, read, relax, ponder peacefully, and marvel at a changing garden-scape every season of the year. In the 1.5-acre garden area, there are more than 200 individually labeled plants representing 63 plant families to educate visitors and inspire ideas for home gardens. A kiosk near the garden entrance includes a large map to orient visitors and offer educational tidbits. The garden has water features and feeding stations for birds. Try to locate the partial foundation of a slaughterhouse that operated here in the 1950's. See if you can find the fairy glade. See what else you can find. Come for a visit and let the garden surprise you.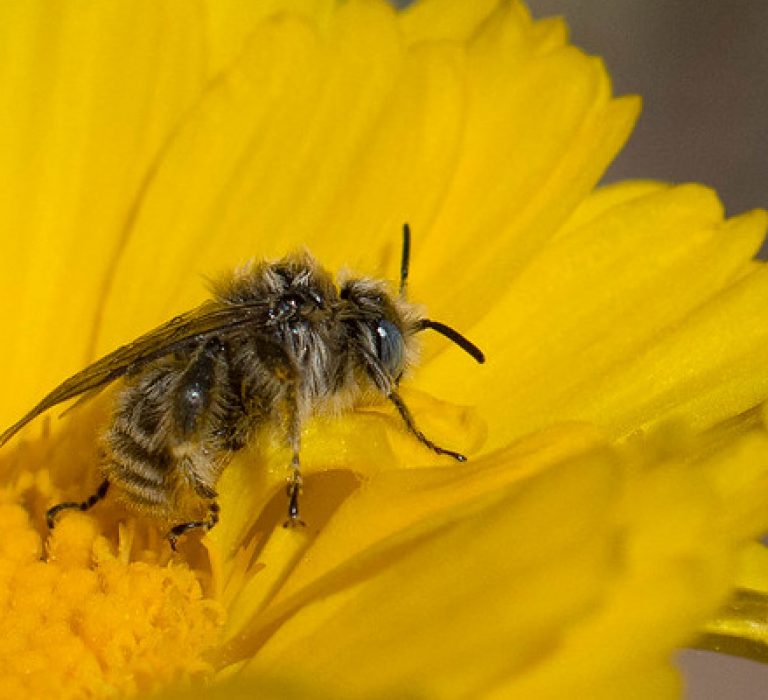 Mariposaville Pollinator Garden
South of the parking lot is a small garden devoted to providing habitat to pollinators and teaching us all about these important creatures' lives and the job they do for the ecosystem. Visitors can also learn about strategies for dry land gardening.