The RGNC is open with the following temporary restrictions.  They are subject to change without notice.
Face coverings are required.
Social distancing is required; step aside as needed where our paths are less than 6 feet wide.

No guided programs are available.
Parking is limited.
Porta-potties are available in the parking area and are sanitized throughout the day.
Walk-in and bike-in visitation are allowed.
The west gate to the bosque trails is open; the bike and bosque trails can be accessed from the park.
Service dogs only; no pets.
Day-use fees or display of applicable permit are required; check or exact change only please.  Day-use permits can be purchased with a credit card at https://www.reserveamerica.com/
State Parks annual day use and camping permits are available for sale with check or exact change only.  Please call the park for questions about the extension of expired camping permits.
Friends memberships are available on-line, at the Visitor Center or through the mail.
Details are constantly changing, but this is the information as of May 3, 2021.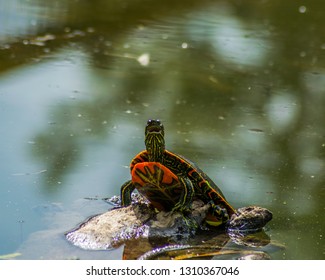 The Nature Center's painted turtle, Chrysemys picta, is a native species that may encounter reproduction problems from increasingly warmer temperatures and sharp temperature swings introduced by climate change. Like a number of turtle species, along with crocodilians, some lizards, and the tuatara, painted turtle embryos undergo temperature-dependent sex determination during development inside the egg. Warmer temperatures tend to produce females while cooler readings bring forth males.
Researchers at Iowa State University exposed C. picta eggs to temperature fluctuations mimicking conditions in nature as well as to conditions where oscillations were exaggerated to mimic climate change scenarios. While higher temperatures continued to produce females, cooler temperatures, expected to produce males, under the influence of intensive heat fluctuations, also produced females. Embryos from warmer profiles remained female or died when the fluctuations intensified.
"The greater temperature oscillations associated with climate change add to the effect of just higher average temperatures," noted the research director Nicole Valenzuela. "If an average increase in temperature is accompanied by greater variance, we'll see populations becoming unisexual faster than anticipated. The greater oscillations add to the effect of just higher average temperature." Valenzuela said the loss of habitat and exploitation has already left many turtles vulnerable to extinction, and climate change only adds to the peril these species face.