Due to Covid 19, the Visitor Center is closed and group activities are suspended.
Birdwatching Resources
Over 300 species of birds can be seen at the park. About 40 of these are residents and the rest are seasonal migrants. Our two most popular year-round residents are the Greater Roadrunner, New Mexico's state bird, and the colorful Wood Duck. You can probably spot them without even trying!
Before heading out into the field to observe our winged residents, stop by the Visitor Center. There, you'll find the following resources of interest to birders:
Recently seen bird list is behind the front desk, on a white board that lists the likely birds at the park with dates indicating recent sightings.
In the shop or at the front desk you can purchase a copy of the

RGNCSP bird checklist

for 25 cents.
The Observation Room The beautiful glass-walled room overlooking our main pond is a great viewing area! It's especially good for folks wishing to avoid a lot of walking or for anyone wanting to view winter waterfowl. The room contains a laminated guide to our most common avian pond visitors.
Trail maps: Front desk staff can provide you with a trail map and help you locate bird feeding stations and wildlife viewing areas on the grounds.
Guided bird walks. There is a guided bird walk every Saturday and Sunday morning from 8:30am to 10am. Meet your guide at the Candelaria Wetlands blind on the north side of the parking lot.
Basic binoculars and wildlife field guides. These can be borrowed from the front desk staff by leaving a driver's license.
Guided Birding Walks
Join naturalists for a guided bird walk Saturdays and Sundays at 8:30 a.m. year round. Meet at the east-side blind.  Beyond the regular day-use fee, there is no cost for the bird-walk.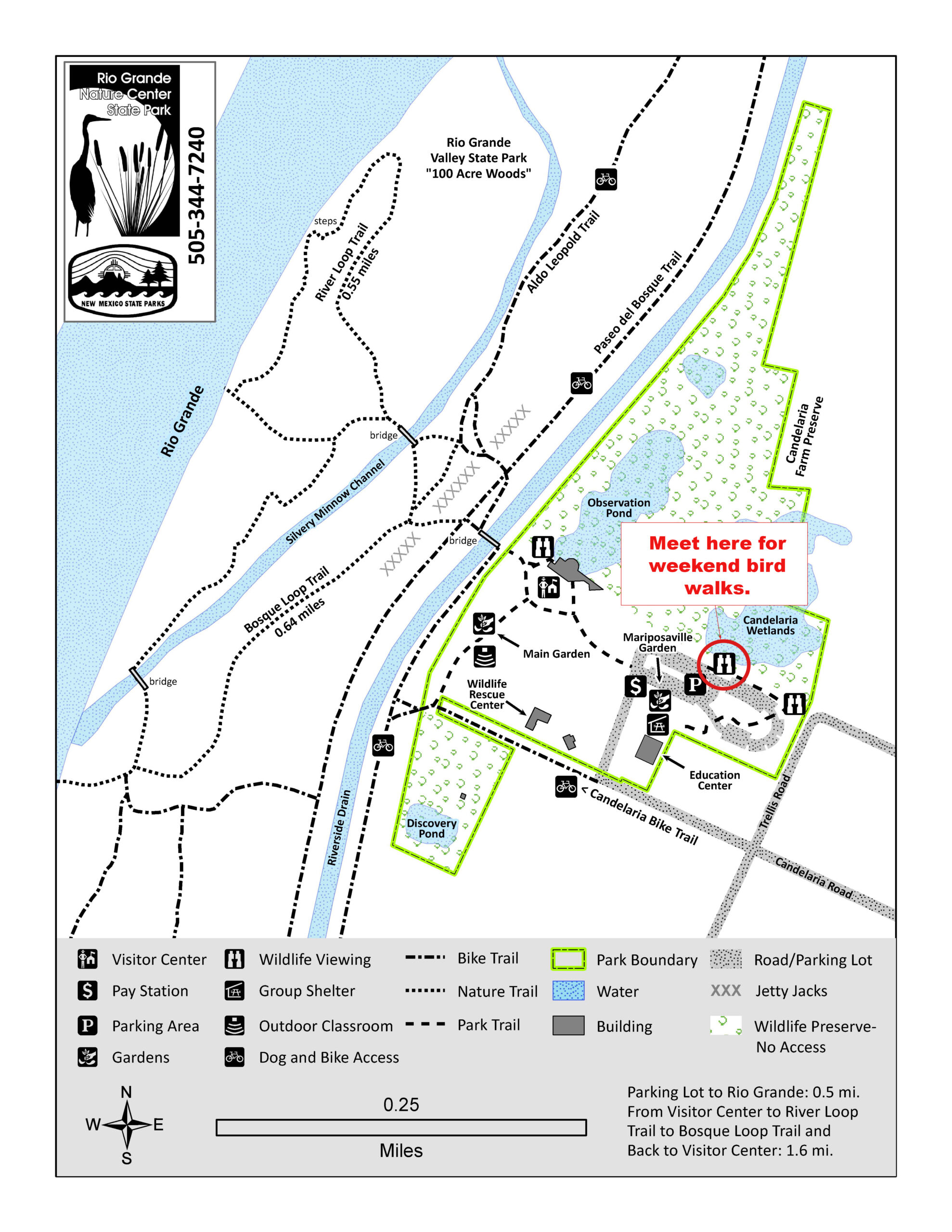 eBird Sightings 2021, as of 2/24
See a complete list of sightings by clicking here.  eBird is a great way to contribute to citizen science at the RGNC. Click here to learn more about eBird. 
Snow Goose
Ross's Goose
Greater White-fronted Goose
Cackling Goose
Canada Goose
Wood Duck
Cinnamon Teal
Northern Shoveler
Gadwall
American Wigeon
Mallard
Mexican Duck
Mallard/Mexican Duck
Northern Pintail
Green-winged Teal
Canvasback
Redhead
Ring-necked Duck
Lesser Scaup
Bufflehead
Common Goldeneye
Hooded Merganser
Common Merganser
Ruddy Duck
Ring-necked Pheasant
Pied-billed Grebe
Western Grebe
Eared Grebe
Rock Pigeon
Eurasian Collared-Dove
White-winged Dove
Mourning Dove
Greater Roadrunner
Virginia Rail
American Coot
Sandhill Crane
Killdeer
Wilson's Snipe
Spotted Sandpiper
Ring-billed Gull
Herring Gull
Neotropic Cormorant
Great Blue Heron
Black-crowned Night-Heron
Golden Eagle
Northern Harrier
Sharp-shinned Hawk
Cooper's Hawk
Northern Goshawk
Bald Eagle
Red-tailed Hawk
Great Horned Owl
Belted Kingfisher
Williamson's Sapsucker
Downy Woodpecker
Ladder-backed Woodpecker
Hairy Woodpecker
Northern Flicker
American Kestrel
Merlin
Black Phoebe
Say's Phoebe
Woodhouse's Scrub-Jay
American Crow
Common Raven
Black-capped Chickadee
Mountain Chickadee
Black-capped/Mountain Chickadee
Juniper Titmouse
Horned Lark
Bushtit
Ruby-crowned Kinglet
Red-breasted Nuthatch
White-breasted Nuthatch
Brown Creeper
Marsh Wren
Bewick's Wren
Cactus Wren
European Starling
Curve-billed Thrasher
Eastern Bluebird
Western Bluebird
Mountain Bluebird
Hermit Thrush
American Robin
Cedar Waxwing
House Sparrow
American Pipit
House Finch
Cassin's Finch
Pine Siskin
Lesser Goldfinch
American Goldfinch
Chipping Sparrow
Dark-eyed Junco
White-crowned Sparrow
White-throated Sparrow
Savannah Sparrow
Song Sparrow
Lincoln's Sparrow
Swamp Sparrow
Canyon Towhee
Spotted Towhee
Red-winged Blackbird
Great-tailed Grackle
Yellow-rumped Warbler