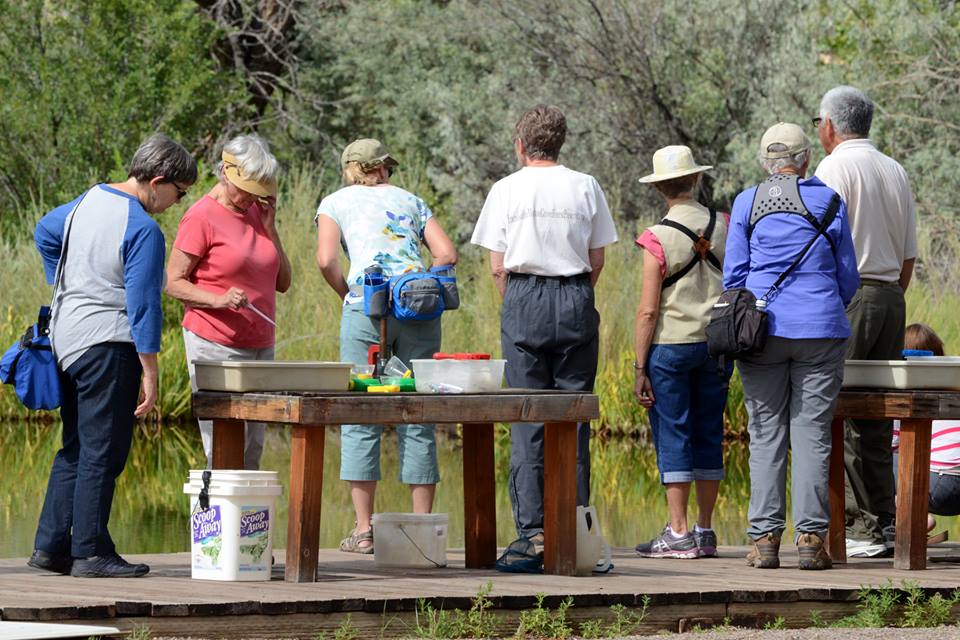 Mission
The Friends of the Rio Grande Nature Center is a non-profit 501(c)3 organization that supports the Nature Center's mission to preserve and protect the Rio Grande bosque, to educate the public about Rio Grande ecosystems, and to foster positive human interactions with those systems.  
What we do
The Friends of the Rio Grande Nature Center (FRGNC) is dedicated to supporting the Park and its staff to maintain and enrich our wonderful oasis in the middle of the city of Albuquerque. To fulfill this mission, the Friends organization raises funds through membership fees, private donations, and grants. There are approximately 1,200 Friends members, including a core group of more than 150 active Volunteers who contribute over 12,000 hours annually to support the Park's mission and programs.  Friends members who wish to become Volunteers take an extensive training program taught by the Park staff, after which they get additional training in specific volunteer areas; there are also ongoing training opportunities for new and seasoned volunteers alike.  Through hard work and dedication, these Volunteers support a number of the Park's programs and activities including: ecological research projects and restoration efforts; engaging education programs for thousands of schoolchildren each year; welcoming visitors and answering questions at the Visitor Center Front Desk; operating our tax-free Nature Shop; working in the Native Plant Garden and Mariposaville pollinator garden; assisting with other park maintenance such as bird feeding; providing guided trail walks and bird walks; organizing our three annual festivals (Nature in Winter, Spring Garden Festival, and Summer Wings); and generally serving the Park's estimated 230,000 annual visitors.
In addition, the Friends organization participates in multiple community partnerships to further nature education, including the development and implementation of the Bosque Education Guide, an interdisciplinary curriculum about the middle Rio Grande Valley ecosystem; educating thousands of local schoolchildren through fieldtrips and immersive experiences within the Park; and providing preschool nature education in conjunction with CLNKids, a nonprofit organization dedicated to serving the homeless community in Albuquerque. These efforts are made possible by the amazing members, volunteers, donors and supporters of the Friends organization. Please consider becoming a member of the Friends organization. If you already are a member and would like to become more involved, consider attending our Volunteer training program, offered annually during January and February.