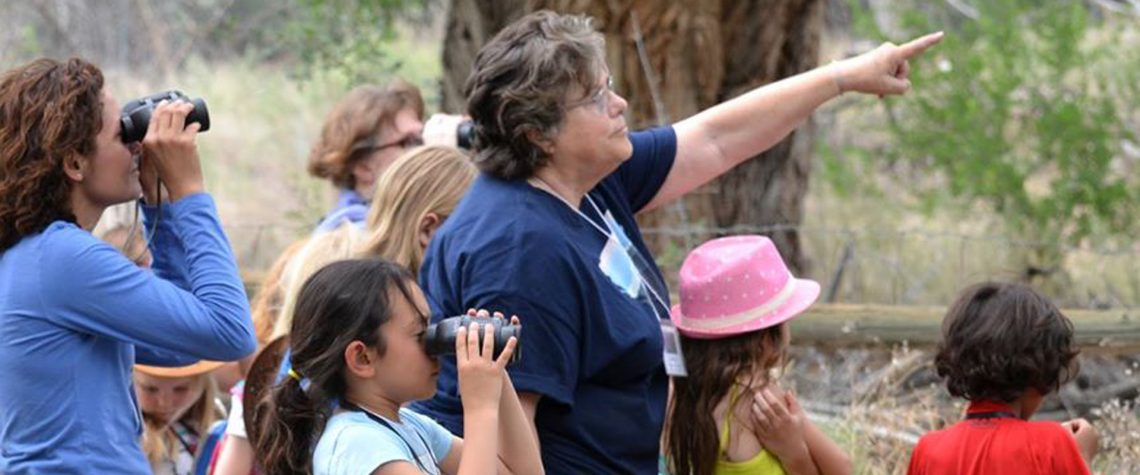 As of mid-March, discussions are underway regarding Nature Discovery 2021, since we are uncertain when Covid 19 restrictions will be lifted. Please check back for more information. 
Founded in 1986, Nature Discovery for Kids is a summer program of Monday through Thursday weekly classes (9:00am to 11:30am) organized by professional educators aimed at connecting young people with the natural world around them. Our instructors use hands-on activities to teach students about nature and science. In each class our students get to explore outdoors and experience different parts of the Rio Grande Nature Center State Park. We encourage them to observe, share, and ask lots of questions. We value the input of our young naturalists and we use their ideas, observations, and questions to guide our programs each day. The Nature Discovery program is proudly sponsored by the Rio Grande Nature Center State Park and is administered by the Friends of the Rio Grande Nature Center, a non-profit organization established to support the park and its mission.
Registration Information:
NOTE: Registration for each class ends at noon the Sunday before the class begins on Monday. 
You may register your child for a class in person at the Visitors Center, by mail (using either a check or a credit card) or by faxing the registration and credit card forms. (The Program Waiver form (liability waiver) must be signed and mailed [or faxed] in either case.) Note that we accept Visa and MasterCard only. We do not have an electronic registration system.
Please use a separate registration packet for each child including the registration form and signed waiver. We need only one survey form per family per summer. Once a signed waiver is on file, it is not necessary to submit another one when registering for a subsequent, additional class. 
Download the registration packet here (will become available in April 2020)
Return the registration packet:
505-344-3405 between 10:00 am and 4:00 pm (including weekends), fax the Registration Form, the Charge Card Form, the current year Waiver, and a Survey Form to the Nature Center.
Nature Discovery for Kids
Rio Grande Nature Center State Park
2901 Candelaria NW
Albuquerque NM 87107
In Person

at the Nature Center Visitors Center
Rio Grande Nature Center State Park
2901 Candelaria NM
You will be notified if any class you have selected is already full.
NOTE: You should register at least five days before the class, as classes may be canceled or expanded based on enrollment! If you delay you may find that the class has filled. Also, if too many people delay, the class could be cancelled for lack of enrollment.
Refund Policy:
Please read the refund policy carefully. It is designed to be fair to everyone. The number of students registered affects those on the waiting list, lesson plans, purchase of supplies and materials, bookkeeping, payments to the teachers and to the Friends of RGNC, whether a class is canceled or expanded, and more.
Refunds and Transfers: Must be requested no later than five (5) days before class begins (by 4:00pm the Wednesday before the class begins on the next Monday). Call the Visitors Center 344-7240 to make a request.

Last Minute Cancellations by Parents: You may substitute another child if you must cancel past the refund deadline. However, the parent/guardian of the new child must fill out a registration form and sign a waiver. (You may bring completed forms to first class if necessary. Download forms or pick up from a volunteer at the desk of Visitors Center from 10:00 to 4:00 each day.)

Class Cancellations by Instructors: Classes will be canceled if they have an enrollment of fewer than ten students by the Wednesday before a Monday-Thursday class. Parents will be notified and will have the option of a refund or a transfer to another class, if available.

PLEASE NOTE: If you fax or mail in registration and do NOT receive a receipt and copy of your registration form by mail before the class is to begin, please check with the Visitors Center (344-7240) to be sure the class has not been canceled and that your child is registered before attending class.

The Director will make the final decisions on refunds. Refunds are given only by check.

Please allow at least two weeks after the scheduled date of the class. No refunds can be given after the five-day deadline as noted above.

For questions on your specific refund call: Krista Pink, Director of Nature Discovery, at 505-363-0992.
Parent/Guardian Information (Please read before registering):
Classes will be held regardless of weather. Classes meet at the group shelter in front of the Education Building, south of the parking lot. After class, we return the children to the group shelter for pick up. Parents/Guardians must sign children in and out of class.  
Sessions often begin with a factual overview of the topic. This might be in the form of discussion, game, pictures, slides, short video, and study of models or real animals. Exploration and observation are exciting and so our daily nature hikes are a favorite of many students. Frequently there are trail activities and games, such as scavenger hunts, collecting and viewing insects, or collecting data. Some classes collect and observe specimens (which are then returned to nature) and some classes have projects.  Classes spend time at the beautiful observation room in the Visitor's Center, the education building, the outdoor classroom and/or other Nature Center volunteer-maintained gardens as well as areas not normally accessible to the public. Our classes often end with discussion and review of what was learned.
What to Bring
Classes will be hiking through the bosque where there may be scratchy bushes and rough paths, so wear shoes good for walking and comfortable clothes that protect and can get dirty. Flip flops are not appropriate.

Classes will be outside! Apply sunscreen and/or insect repellent before class, and you may want a hat.

Students may bring water in a non-breakable, easy to carry container. They will be responsible for carrying their own water bottle.
Rules for Parents
Please be prompt. Classes meet as described above and disperse throughout the area. If you are too late you may not find your class.

Students must wear closed toe shoes for safety

Please pick up your children on time – we greatly appreciate it!

Parents cannot attend class due to limited space and supplies.

Please read the refund policy carefully. It is designed to be fair to everyone.
Rules for Students
Children must stay with the group at all times.

Please don't bring electronic games, toys or other distractions. Check with teachers for permission before bringing specimens to show.

It is imperative that children behave and obey instructors. Potential safety hazards will be discussed. Those who conduct or influence creates safety or discipline problems will be asked to leave. They will not receive a refund.
Cell phones may be used to take pictures of nature, only. Students may not take pictures of other students nor play games or communicate on cell phones during class.

Check with each teaching team on their food rules before bringing snacks. 
Parking at the Nature Center
NM State Parks requires a $ 3-day use fee (exact change or check) per vehicle entering the RGNCSP grounds, except for Friends of the RGNC permit holders and State Parks annual permit holders with a valid permit displayed. Please consider carpooling, or join the Friends of the RGNC for $30 and get an RGNC day use pass which is good for one year. You will also get 10% off the fees for each class.